Sandblasting Technologies

for Professionals
Performance and reliability for professional demands.
SAPI Sandblasting Halls
are tailored and implemented for each customer-specifically
The blasting material treatment takes place via our effective cleaning system, which separates smashed abrasive or other impurities like fine dust or coarse foreign particles. When ferritic and mineral blasting agents are used in a blasting hall, the blasting media are at the same time guided by electromagnetic drums, separated and temporarily stored in a divided blasting material storage.
What are the main BENEFITS of the SAPI blast halls:
low installation depth (for flat conveyor system), therefore also retrofittable of an existing sandblasting hall is possible,
very low height,
low noise and low friction,
low energy consumption,
low-wear and tear,
since there is no metallic material in the sandblasting area (only rubber) which is known to have a much longer life especially in the sandblasting area
Over 50 years of tradition and innovation.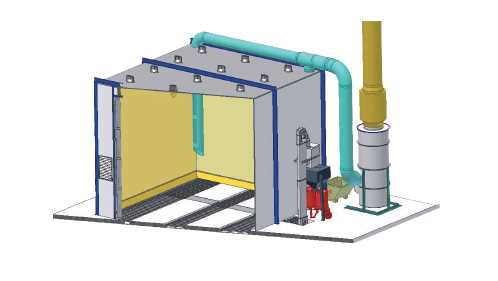 SAPI sandblasting hall with cross and lonitudinal conveyor system for automatic sandblasing material pickup.
SAPI sandblasting blasting hall, combined with painting and drying booth
Turnkey installation of combined blast halls
Quality and tradition
We offer a comprehensive range of blasting machines for all sandblasting applications, including mobile blasting containers and steel rooms. We have over  40 years of experience in sandblasting technology. We have clients from all over Europe and also worldwide. We are known as an a-leading sandblasting technology supplier for blast halls/blasting containers/blasting rooms and other automatic and manual sandblasting systems.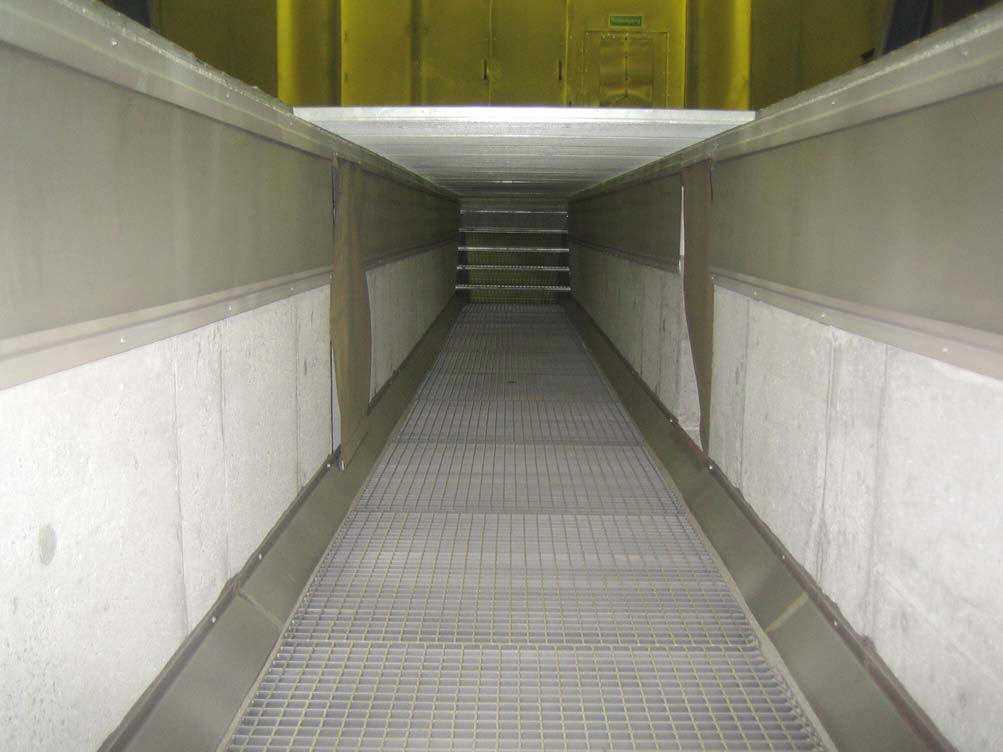 Our sandblasting halls can have a working pit for large "automotive" or other large objects that need to be sandblasted from "bellow" and cannot be moved. Our SAPI sandblasting flat conveyor system is designed for all types of sandblasting materials and applications.
At the elevator-top part are the tensioning station and the drive motor. On the lower pulley, there is speed monitoring of the bucket elevator so in case of problems the elevator stops automatically
Generously dimensioned maintenance openings facilitate easier maintenance's.
The sifter is used for the reliable separation of useful and no longer usable abrasive or other impurities (dust particles, coarse foreign bodies such as screws). For cleaning of coarse parts and foreign bodies, a vibrating sieve is installed.
The separated coarse material falls through a downpipe in a container. Particulate matter is sucked off into the filter unit and useful blasting material is returned for reuse. Blasting agent silo has 100 l  of storage and acts as the buffer between the cleaner and the blasting unit for intermediate storage of the blasting material.