SAPI Sandblasting Halls
are tailored and implemented for each customer-specifically
SAPI Sandblasting halls/plants with 50 years of tradition and proved quality. SAPI engineering team is continually
improving the design and functionality of our sandblasting halls/plants.
Since the sandblasting hall is an enclosed system with its own filter solution, higher bars and better more efficient sandblast material can be used.
Since the material is automatically collected and cleaned this is more efficient and economical compared to outside sandblasting where material can't be collected, recycled and reused.
Our calculations show that when you compare sandblasting in the hall were you use metallic sandblasting material and higher bars to outside sandblasting with quartz sand and lower bars, you save 25% time and resources.
Each sandblasting hall/plant is custom-tailored to fit the company need. We offer a variety of custom solutions for special need such as lifts, reinforced floor grids (for heavier loads), sandblasting and even sandblasting robots.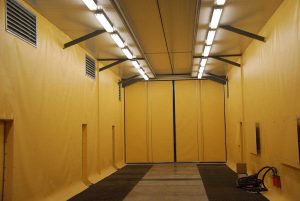 Our sandblasting halls are operating from Germany To Ukraine, from small sandblasting halls to sandblasting halls for rolling stock (trains)
Some of our bigger clients are Simens, DB (Deutsche Bahn), Slovenian Rails and many more.
All our sandblasting halls are made by us in SAPI German Factory and then assembled by our professional SAPI Team.
All our sandblasting halls are equipped with our patented, low energy consumption flat floor conveyor. Flat conveyor collects sandblasting material from the floor and transports it to our patented sandblasting recycling system, where good sandblasting material is reused.
There is the possibility that two materials are used in one hall at the same time (Miniral and metallic), in this case, the material is additionally led into the electro-magnetic drum where it is separated and then divided into separated material bins.
From 2020 all our Sandblasting halls are equipped with an LED lighting system for optimal visibility even during long sandblasting sessions.
As a full coating solution, we offer a Thermal Zink Spraying machine. Since outside zink spraying is not allowed in Europe we design all our sandblasting halls and filter system so the user can use our halls for Thermal Zink Spraying. Filters will clean any Zink gases that are toxic and end result will be better since of the hall controlled environment.
We offer a 12-month guaranty on our sandblasting machines and Halles.
The SAPI flat conveyor system
The blasting material treatment takes place via our effective cleaning system, which separates smashed abrasive or other impurities like fine dust or coarse foreign particles. When ferritic and mineral blasting agents are used in a blasting hall, the blasting media are at the same time guided by electromagnetic drums, separated and temporarily stored in a divided blasting material storage.
What are the main BENEFITS of the SAPI blast halls:
low installation depth (for flat conveyor system), therefore also retrofittable of an existing sandblasting hall is possible,
very low height,
low noise and low friction,
low energy consumption,
low-wear and tear,
since there is no metallic material in the sandblasting area (only rubber) which is known to have a much longer life especially in the sandblasting area
Frequently Asked Questions
What are the main parts of SAPI sandblasting hall?
Sandblasting material separation system
Sandblasting material transport system (flat floor conveyor)
Sandblasting filter system
Sandblasting device (Mammut)
Sandblasting rubber lining
Safety systems (like emergency stop in case of open doors)
Working platform (optional)
A working pit for sandblasting undercarriage in rolling stock for example (optional)
What are the advantages of sandblasting flat conveyor/floor scraper system:
low installation depth therefore can also be retrofitted in existing blasting rooms
low noise and low friction
very low energy requirement
very low wear, as there is no metallic material in the pushing area, only rubber
very low overall height
Is it possible to sandblast the undercarriage of cars and other vehicles in SAPI sandblasting halls?
Yes, but because SAPI sandblasting hall will have a so-called »working pit« the depth requirements will be greater to accommodate the working pit. And since there is a possibility to install our patented sandblasting material flat conveyor system under the working pit there will be no need to shovel material from the pit after work is done, as this will be all done automatically during sandblasting work.
Is it possible to buy a used sandblasting hall?
Yes, sometimes we do buy our used SAPI halls back from companies in case they are upgrading to new bigger or smaller halls or in case if the company stops operating.
On all used sandblasting halls we do offer a full or partial refurb option.
Since used sandblasting halls are not always in stock please call our sandblasting hall specialist and we will find a solution for you.
What kind of filter system is used in SAPI sandblasting halls?
We use a patented state-of-art Cartridge filter system that has been proven and field-tested for more than 20 years.
Our cartridge system has an integrated rough dust deflector is specially designed for heavy dust and high dust concentration.
What are areas of applications for SAPI sandblasting halls?
Processes in which there is any blasting requirement
Treatment of large workpieces or even rolling stock
Cleaning work on workpieces that have heavy soiling
Paint, rust, dirt layers removing
Deburring
Surface preparation
polishing
Matting
and much more…
Can you sandblast in sandblasting hall with quartz (sand) sandblasting material?
Absolutely, no. The filter system is designed for multi-use sandblasting material and the quartz material produces a lot of dust and can overwhelm the system and reduce the efficiency of the system.
Need more information or a guided tour of our sandblasting hall in your area?
Not a problem, call us and our SAPI team will answer all your questions.
If your company is present in Germany, Austria, Hungary, Slovenia, Croatia, Serbia, Ukraine, Russia, Kazakstan,… you can have a guided tour with the local representative of our sandblasting halls/plants, call or write to us!
How many times per minutes the air is cleaned in the SAPI sandblasting hall?
Since EU law states that the air must be cleaned at least a minimum of 40 times per minute in a sandblasting hall, all our SAPI sandblasting halls are rated that the air is cleaned at least 60 times per minute.
If you require even better efficient this can be achieved with our custom solutions. Call us and talk with our experts.
Over 50 years of tradition and innovation.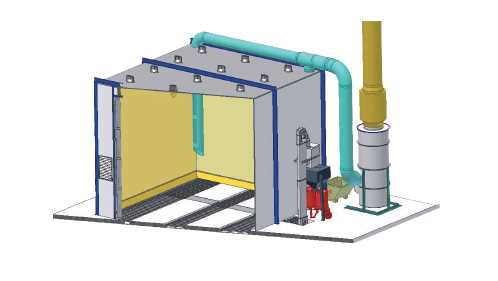 SAPI sandblasting hall with cross and lonitudinal conveyor system for automatic sandblasing material pickup.
SAPI sandblasting blasting hall, combined with painting and drying booth
Turnkey installation of combined blast halls
Quality and tradition
We offer a comprehensive range of blasting machines for all sandblasting applications, including mobile blasting containers and steel rooms. We have over  40 years of experience in sandblasting technology. We have clients from all over Europe and also worldwide. We are known as an a-leading sandblasting technology supplier for blast halls/blasting containers/blasting rooms and other automatic and manual sandblasting systems.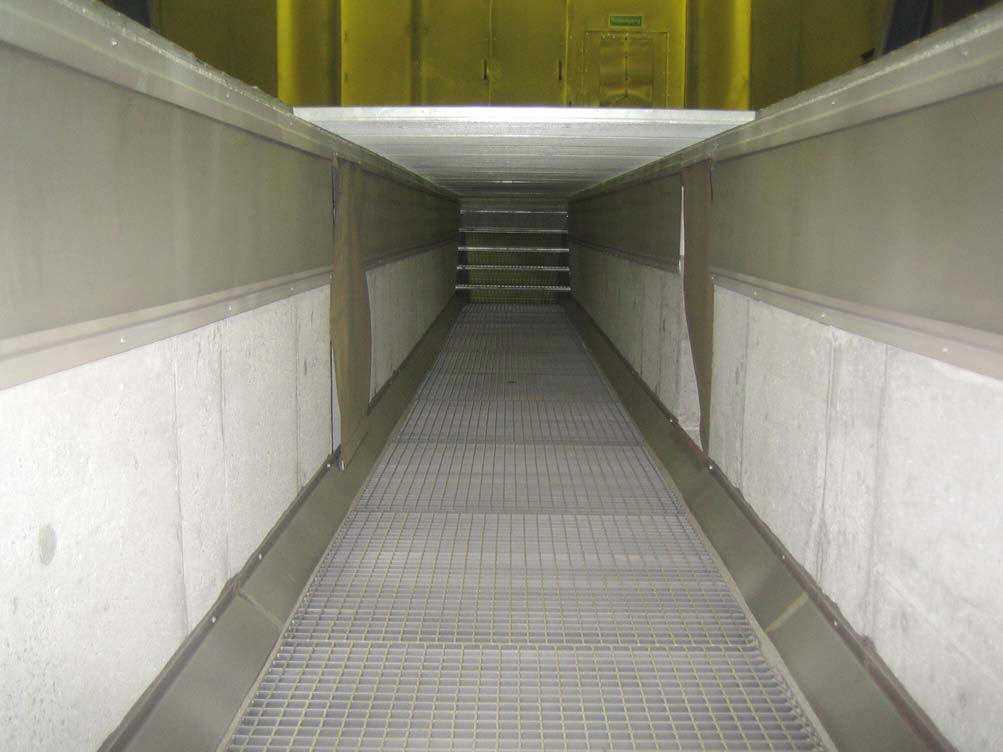 Our sandblasting halls can have a working pit for large "automotive" or other large objects that need to be sandblasted from "bellow" and cannot be moved. Our SAPI sandblasting flat conveyor system is designed for all types of sandblasting materials and applications.
At the elevator-top part are the tensioning station and the drive motor. On the lower pulley, there is speed monitoring of the bucket elevator so in case of problems the elevator stops automatically
Generously dimensioned maintenance openings facilitate easier maintenance's.
The sifter is used for the reliable separation of useful and no longer usable abrasive or other impurities (dust particles, coarse foreign bodies such as screws). For cleaning of coarse parts and foreign bodies, a vibrating sieve is installed.
The separated coarse material falls through a downpipe in a container. Particulate matter is sucked off into the filter unit and useful blasting material is returned for reuse. Blasting agent silo has 100 l  of storage and acts as the buffer between the cleaner and the blasting unit for intermediate storage of the blasting material.