SAPI Spray paint and drying booths are tailored and implemented for each customer-specifically
SAPI Paint Booths
The new generation of paint booths must meet the highest EU requirements. The consideration of new paint systems, e.g. Hydro-lacquers, polyurethane resin, epoxy-zinc dust or epoxy-iron-mica-paints places high demands on an old paint shop system solution so that's why we developed new and unique mobile painting booth for the next generation of coating solutions.
An important criterion is the workpiece transport to the painting from and for further processing.
Do you need any further information? Our engineers can offer expert advice and support.
SAPI sandblasting blasting hall, combined with painting and drying booth
Turnkey installation of combined blast halls
Quality and tradition

Complete solutions for: paint shops, paint shop and drying rooms for perfect painting, blasting with conveyor technology and integrated pick-up and take-off stations for road sweepers.
Transport system for painting and blasting facilitiesConveyor technology with crossings and switch system for components up to 2000 KG
Spray Painting Booth ceiling extraction with easily replaceable filter elements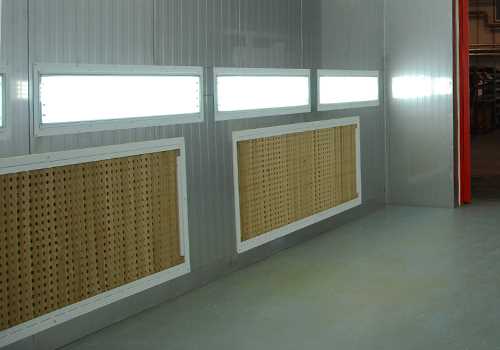 Lackierhallen Seitenabsaugung mit auswechselbaren Filterelementen.
Heating-drying variants with:
With oil burner, gas burner, indirectly heated via combustion chamber
Surface gas burner heated directly/li>
Pump hot water or electric
Unit for heating spray paint booths </ strong> with oil, gas directly with surface burner or gas indirectly with combustion chamber.
Also, heat recovery as the cross-flow heat exchanger possible.
For higher solvent values, we recommend activated charcoal filters in the exhaust air.
Solvent cleaning via activated carbon filter
Humidifier and dehumidifier system (humidity control)
Frequency controlled drives for energy saving
Programmable control
Each SAPI spray painting booth us custom made
Do you have any question? Our engineers are happy to assist you with advice and assistance.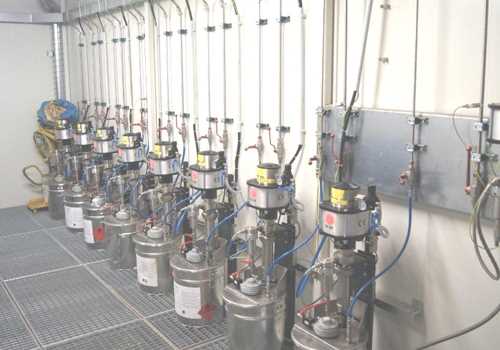 Paint container with airless pumps and paints for the paint supply of the paint booths for the entire complex.