Sandblasting material
Reusable blasting agent grades: metallic, mineral or organic!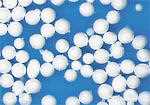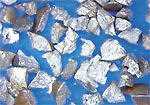 Sandblasting material or blasting media is as important as the choice of your sandblasting equipment.
Specific knowledge and experience is crucial when selecting the right material. Un the variety of tasks that can be solved by the sandblasting process, it is understandable that there can be no all-round blasting abrasive. Sandblasting material must be chosen for each application or process separately.
Once we know what process and what device we will be using then we must find the best quality-to-cost ratio abrasive material in order to optimize the sandblasting process. 
The primary concern when we are selecting a proper blasting media is the achievement of the desired surface quality and smoothness. For this purpose, a metallic, mineral, a hard or softer, a spherical or angular blasting agent may be suitable, and the particle size plays a crucial role whilst deciding on appropriate sandblasting material.
Metall iron / edged:
Metallic reusable blasting abrasive, ideal for sandblasting halls. Removing rust, coatings and deburring, …
Grain sizes: on request
Glass beads
ideal for surface finish for stainless steel, non-ferrous metals, etc. ! Has no iron components and therefore suitable for stainless steel: Is particularly suitable for compacting and polishing stainless steel surfaces. Grains/glass beads:
40-70 µm
70-110 µm
90-150 µm
100-200 µm
150-200 µm
200-300 µm
300-400 mm
Pack.: 25 Kg paper bag
Aluminum Oxide
Surface finish for non-ferrous metals and surface roughening, roughness depends on grain size and jet pressure.
Grains / Normal Corundum:
F150 45-125 µm
F120 90-125 µm
F80 150-212 µm
F46 300-425 µm
F24 600-850 µm
F16 1,0-1,4 mm
Pack.: 25 Kg paper bag
Aluminum Oxide White
Prfect for surface finish for stainless steel, non-ferrous metals u.v.m. Suitable for defoaming, matting of all metal surfaces u.v.m. Non iron components.
Aluminum Oxide White grain sizes: on request!
Ceramic beads
Perfect for surface finish for stainless steel, non-ferrous metals u.v.m. ! No iron components and therefore suitable for stainless steel: Particularly suitable for compacting and polishing stainless steel surfaces.
Grain sizes: on request
Slag
Glass powder/ Slag 0,09-0,5 mm
Copper / Slag 0.25-0,8 mm
Copper / Slag 0,25-1,4 mm
Pack.: 25 Kg Paper bag
Glass powder flour
Glass powder flour 0,09-0,25 mm
Glass powder flour 0.09-0,5 mm on demand!
PE: 25 Kg Paper bag
---
PE: 25 Kg Paper bag
Sapi offers standard blasting media and special abrasives for any type of surface treatment.
For the gentle sandblasting technique we use mainly fine blasting agents such as e.g. Glass powder, calcite powder, stone powder, garnet sand, glass powder slag, aluminium silicate, melt chamber slag,… etc.
For the application of fine blasting agents, we have designated special low-pressure blasting machines in the program called Premium Low Blasting machines and also low-pressure blasting unit, which are equipped with special VARIO nozzle technology. The VARIO nozzle can be converted from a vortex blasting nozzle, into a flat blasting nozzle or Venturi blasting nozzle in a matter of minutes, and can therefore be used very efficiently for the corresponding sandblasting application.
The VARIO nozzle variant, vortex blasting nozzle is primarily used for the most gentle surface treatment or cleaning of historically protected buildings, monuments, facades, natural stone ornamental stone, sandstone, shell limestone, limestone, tufa, granite, marble.
Other fields of use may include brick cleaning, cleaning of ceramic, terracotta cleaning glazed and unglazed.
In addition to hard surfaces, you can sandblast softwoods, hardwood in timber framing and softwood for trusses and wooden cladding of all kinds with our gentle blasting nozzle that is called Sapi vortex.
Which abrasives can be used for sandblasting?
Sandblasting is used to remove coarse, loose dirt or rust from surfaces all kinds of surfaces.
Sandblasting is used both in construction and in metalworking and also in other industries worldwide. In addition to the removal of old plaster from walls or paint residues from metals, sandblasting is also used in the cleaning of plastics such as dentures in the dental industry. It can be used for matting glass or for cleaning electronic parts, this method is used.
A distinction is made between the abrasives between abrasive (sand, corundum, etc.) and non-abrasive (z.CO2 pellets in dry ice blasting, CO2 snow when snow blasting).
The use of the blasting material or medium in the blasting process depends on the surface and the type the pollution we want to remove. To remove rust from example metal sheets, cast iron or steel, it is recommended to use corundum or similar blasting material like steel gravel.
The abrasive used in each case is determent on the surface structure of the material that we want to sandblast. The result of sandblasting effectiveness is of course, dependent on the air pressure and the amount of air that comes from the blasting nozzle.
For rust removal or roughening of steel construction, an air pressure of at least 6-7 bar is recommended, whereby 3-4 bars are sufficient for concrete or stone.
There is no one solution for every sandblasting job. We at SAPI have over the year build enough knowledge to know what type of material on what kind of surface and with what pressure and nozzle we use, so we get the best result possible.
(Source: Wikipedia, the free encyclopedia & Edited by SAPI)