When looking for sandblasting cabin and can't decide on what type to choose?

Let us help you with a few simple rules or guides to follow.
#1: Don't focus only on the price!
Even though the injector cabin is usually considered to be cheaper that should not the only key to judging the machine on. Injector machines are as capable as pressure blasting machines but speed is what they lack compare to injector cabins of course. Also, don't forget to focus on support and spear parts you will need. That's why we would recommend cabins that are made outside EU or "no-brand-cabins",  as spear parts and future support for the item are normally bad or non-existing. Always choose a reputable brand with a long tradition and great support. We at SAPI have customer support as core value for more than 50 years.
#2: What will I sandblast?
One of the most important questions you need to answer before you decide what type of sandblasting cabin you will buy. Will you be sandblasting hard steel with multiple layers of paint, or thin aluminium with few microns of the coated surface.
If you plan to sandblast many pieces made of hard materials like stone, metal, etc. and they have one, two or even three layers of paint you need to remove and you are looking into injector based sandblasting cabins, they will remove it, but at cost of more time and resources. What a typical sandblasting pressure machine removes in one quick wipe injector base machines takes more time and patience, and if you can't "afford" to lose one or the other you should avoid injector-based machines.
An important part of how will you load the pieces in is addressed in the next few paragraphs.
#3. What kind of sandblasting material will I use?
When deciding what kind of sandblasting machine you need, besides knowing what type of pieces you will work on, there is also an important question to ask yourself; what material you will use?
Heavy grit, cold iron grit or even very large size corundum can't be used efficiently with injector-based cabins as they will struggle to "pull" large material from the pot.
(We will cover; What material to use and when to use it in the future so be sure to visit this our blog in the future.)
#4. Size!
The size you choose is dependant on the largest pieces you are planning to sandblast during the lifetime. You need to plan for the future when you are choosing the right size of sandblasting cabin for you. Do you plant to sandblast small pieces or large steel pipes or beams? Do you need sandblasting cabin with side "pass-thru" opening for larger beams or pipes?
[dimage attachment_id="11457″ control=true auto-rotate=true]
#5. Lighting
Seeing is important :)… You know that already, but it's even more important if you are working on an important piece for a client and old incandescent light in the sandblasting room is providing a terrible to no visibility.
At SAPI we believe in quality LED lights that provide clear visibility from top to bottom and even when there is dust from the material braking.
#6. Doors
Doors or the way you load the pieces into the sandblasting cavity. Will you need to load the pieces with a forklift, or can be lifted by hand? Always choose the cabin that will "open its" doors that will fit your work-style and type of work. Normally sandblasting cabin has a front or side loading openings with doors on a hinge with a gas-powered arm to aid with the opening in a case where doors are heavier but in case you need additional assistance with pieces loading …we do offer accessories 🙂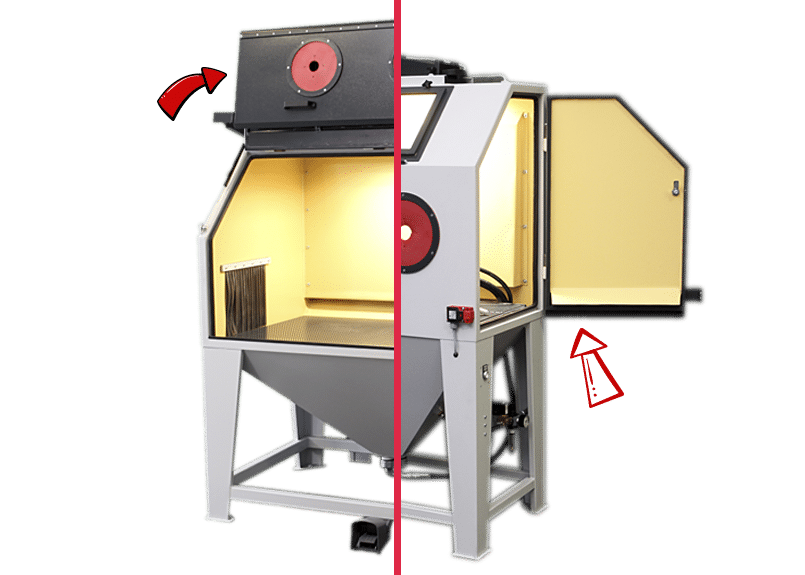 #7. Accessories
Accessories can make your job easier. You can choose from a simple nozzle holder to automatic sandblasting rotating basket and even automatic or manual rotating table and more. But please note that not all accessories are compatible with every type of sandblasting cabin. So please consider also that when you are deciding what sandblasting cabin to buy.
We hope that with this blog post we made your decision a bit easier but if we didn't, please contact us and we will gladly answer all your questions and help you so you can choose the right sandblasting cabin that will fit your needs and budget.
#8. Extraction
When you decided on everything and know exactly what, how and where will you sandblast you need to choose a filter or extraction system that will fit the sandblasting cabin? There are two factors that come into play when you are deciding on an extraction system for your sandblasting cabin:
1. Size of the cabin: Size first factor that is important when choosing an extraction system because if the extraction system is too weak or it doesn't have enough "airflow" capacity your visibility and efficiency will suffer greatly as well as your health. Yes, you read it correctly. Since your extraction system cant "suck" all of the particles from the sandblasting cabin that means that some of them (or in case of weak extraction system all of them) will get out of the cabin, and since some dust particle can be inhaled that can have a detrimental effect on your health, in fact by EU law sandblasting cabin dust leaks must not exceed 5 mg/m3.
2. Work frequency; Are you sandblasting just a few times for a week or full time 8 hours every workday?
By answering this question you will know if you need a better more expensive or weaker cheaper system.
But don't worry we at sapi always prepare an offer with the right extraction system for your type and frequency of work.
This is just a set of simple basic guidelines to follow when choosing a sandblasting cabin. If you still have more questions, don't worry, our team of specialist are ready to answer any question you have.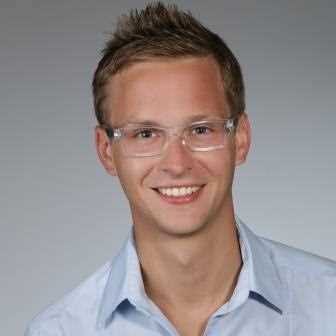 Stil have more question?
Talk to our Mr. Sebastion Fertl (Sandblasting Cabin Specialist) in case you have
any further question.
Tel.: +49 9083-9615-31
Fax:  +49 9083-9615-99
E-Mail: [email protected]
Was this article helpful?